It's a White Christmas this year with two new archival releases from The White Stripes. The first release stretches back over twenty years to September 1999 in Detroit, Michigan and the second comes from the Seattle Seahawks Stadium Exhibition Center in 2003. Check out Third Man Records' Co-Founder Ben Blackwell's write up of both unique shows below.
The White Stripes Live at The Magic Stick 9/10/1999
What an odd show. Part of a mini festival dubbed Gutterfest, organized and emcee'd by local promoter and DJ Willy Wilson (that's his voice you hear introducing the band), it was a rare event for the Stripes to open a show with a cover song, let alone one they had never played before and would never play again, but that's the case with the Captain Beefheart classic "Diddy Wah Diddy" kicking off the performance. Followed by "Never Thought That I Could Love You" (sometimes titled "Lucky to Know You"), which holds a unique profile as being a song played by the White Stripes live a handful of times, yet never tackled in the studio and never showing up in any other Jack White outfit ever again. There might be a video kicking around of another show where the band plays this, otherwise, this may be the only time/way you'll ever get to hear it. Otherwise, the set list is filled with early favorites and most excitingly, TONS of stage banter. I've no idea what had Jack so talkative this evening, but it sticks out, hands-down, as my single favorite collection of banter for a White Stripes show. From George Washington, Jack's opinion on the size of roads, how much free time kids should have, who exactly is the "moon man", where the street you grew up on got its name from and what exactly makes Wayne Kramer a "legend" are all addressed. In my opinion though, the best comment is after the band finishes playing "Why Can't You Be Nicer to Me?" the sound man comes over the muffled stage speaker and says "That's it guys" to which Jack replies, incredulously, "That's it?!?! I was BORN here man!"
Weird to think about it now, but the Stripes would only perform as an opening act in Detroit ONE more time after this gig. While this show is far from perfect, it feels outright inspiring to see the trajectory Jack and Meg would take from this moment. Ultimately, a fascinating show for anyone with a deep appreciation of the band OR just a casual fan wanting to hear songs that exist nowhere else. – Ben Blackwell, Third Man Records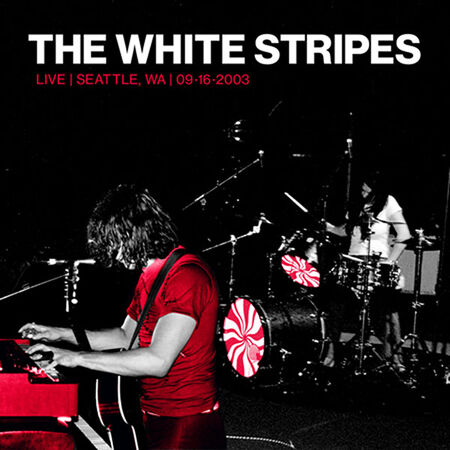 The White Stripes Live at Seahawks Stadium Exhibition Center 9/16/2003
A dud of a room if there ever was one. I have no idea why they put on shows in this space. I mean all disrespect when I call this space a facility. But when the White Stripes are white hot in the touring behind Elephant I assume you just gotta play whatever room fits the crowd. And fortunately, the shortcomings of this space failed to affect the sound captured or the band's performance. This show is of particular note as it would be the first time the Stripes would play with Yeah Yeah Yeahs since the YYY's first-ever show back in September 2000. Having to follow an explosive opening act, the Stripes come out of the gate guns blazing with a bonkers version of "The Hardest Button to Button" which, while somewhat odd to land in as the set-opener, helps establish the mood. My favorite moment on this recording is the extemporaneous version of Yeah Yeah Yeah's "Man" done in a medley with "Astro" and "Jack the Ripper." Playing a cover in front of the folks who wrote it, to me, is the ultimate sign of respect. Equal parts electric, unhinged, of-the-moment and uncannily compelling. Truth of the matter is that it felt like ALL shows on this 2003 West Coast run were wild. One of the more memorable span of shows for me, the band hitting its stride at the highest of heights. And yes, listening now, it is absolutely totally weird hearing "Seven Nation Army" in the middle of the set, but at the time, I don't think I felt that way.
Of the 63 or so shows the White Stripes recorded in 2003, this appears to the be the only performance we do not still have multitrack masters on. All audio comes from a CD-r made the evening of the performance with a "Glenn Sound" sticker label attached to it. I know that Glenn Sound is a studio in Seattle where the Stripes did a radio session back in 2002, but am unsure as to what their involvement was for this 2003 show. The CD was left on a table in the band's tour bus after the show and I was sure to snatch it up, only re-discovering it in my basement mere weeks ago. – Ben Blackwell, Third Man Records