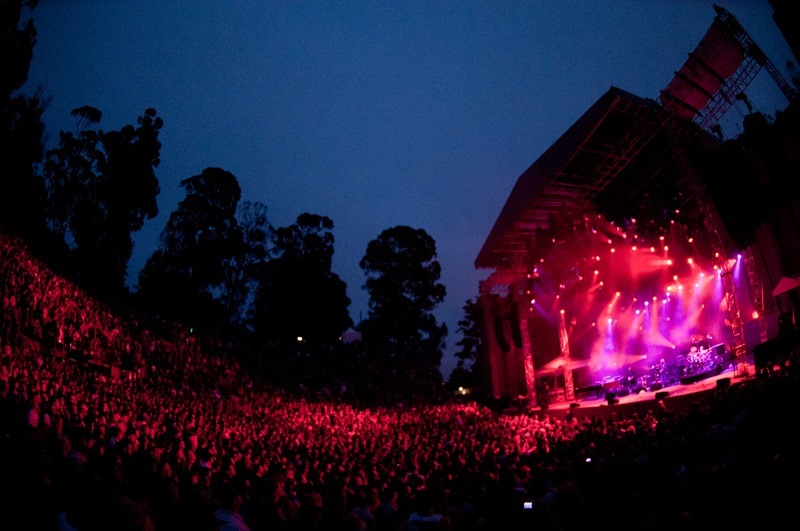 Phish
The Greek Theatre, Berkeley, CA, August 10, 2010
By Kevin Shapiro
On Saturday, August 7, 2010, Phish played the final show of a sold-out three-night stand at the Greek Theatre in Berkeley, CA. The bar was set high with the previous two shows and expectations soared.  The 2010 Greek run found the band reaching higher each night, basking in the glow of this historic venue and attentive crowd.  The show opened with an old school pairing of AC/DC Bag > Foam followed by Gotta Jibboo – all played with the same patient, open approach displayed over the previous shows. Next came a soaring Reba as Trey's new guitar emitted a flow of pretty leads and staccato runs amidst Page's intricate Rhodes runs.  2010's last Sleep Again and Army Of One provided a moment of reflection before a sizzling 46 Days > Tube. Mike held Tube's last bass note, providing the bridge to a sing-a-long Character Zero to end set I.
After another sunset over the San Francisco Bay, the band kicked off set II with Wilson > Light. The Greek Light climbed to pinnacle heights, bending and floating to a sublime place before resolving into The Golden State's first Twenty Years Later. Harry Hood followed, with ghost notes on a second snare drum, press rolls, and percussion wizardry from Fish while the music hung in the night air and reverberated across the Greek's open bowl. Theme From The Bottom came next and then they shook the trees with 2001 > Suzy Greenberg and a spacious Slave To The Traffic Light. The first The Lizards encore in nearly fifteen years came next and First Tube put the finishing touch on an incredible three days of music at one of the most stunning spots there is.